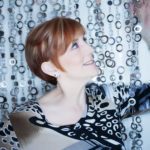 Terry Lynne Hale is a Kansas City author and freelance writer. Her first book, Ageless Internet, Internet Basics for Boomers and Seniors was a Finalist in the Global Ebook Awards and Ageless Internet won the 2012 Indie Excellence Award in its genre.
Her 2nd book was The Straightforward Internet. It's geared toward Generation X, another group whose members may or may not have fully embraced all that is the Internet. It was published on Amazon as a Kindle ebook and a POD paperback in early 2017.
In Winter 2017-18 she published Interview 2018-Present Yourself Like a Pro. It's a whole new world out there and you won't land that job you really want unless you treat the search like a job in itself. You need to make a mark, make it quick and make it memorable.
Terry is an animal lover, and tries to be a responsible environmental steward. She is interested in nutrition and whole body health, combining alternative with mainstream medical modalities. She and her husband enjoy target shooting, whitewater rafting and in the Spring of 2016, enjoyed a hot air balloon ride in Park City, Utah. She loves the ocean and they love the mountains.
Hale's biggest issue is in finding the time to pursue all of the subjects she's interested in. Learning takes time and she is a life-long student.