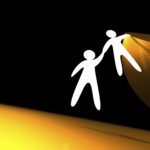 and

I'm proud that my parents raised us to be generous. As a result, sharing comes naturally to me
and I encourage everyone to give to the organizations that hold value for them.
Once upon a time this animal lover donated regularly to The Humane Society of The United States. I had been a supporter since I was a teenager in the 1970s. Then one week about 10 years ago now, I received three mailings with little freebies like a keychain asking me to join and support the HSUS. The thing is, I've lived at the same address since the mid-eighties so, there is absolutely no good reason that I should receive not 1 but 3 "new member campaign" mailings with a giveaway. To me this was a huge waste of money & it was also frustrating since (to me) my loyalty had been earned after decades of support.
This experience prompted me to begin evaluating ALL charitable organizations I supported. Soon, I discovered this one had a less than stellar rating. (NOTE: it is vastly improved when I checked it today.) So, what is the magic number that an intelligently managed organization should be spending to build membership and still maintain a major amount of its' contributions? For me, I'd like to see 80/20- 20% going to overhead and 80% going to the cause. After all, I donated to save pets not to support 6 figure salaries. These days, I'm more flexible at 75/25. Here's what the two major WATCH DOG organizations have to say on the subject:
and
Others weighing in that may be of interest to you:
In 2003, the Better Business Bureau's Wise Giving Alliance
determined that 65% of income should go to the cause and 35%
to program expenses and overhead. It appears these metrics are
still current.
In the end, it's entirely up to you to feel good about the organizations
you support, maximizing your charitable donations. Thank you for
continuing to support those whose missions resonate with yours.