My nail tech, Renee Brockman, has done an excellent job of managing my expectations. She explained from the start that this was going to be a long, time-consuming process to conquer this bad habit and let my seriously damaged fingernails grow out. I am fully prepared for it since this habit is a carry over from childhood that I later "addressed" by having my fingernails sculptured, then gel nails applied – for about 35 years. After experiencing the excruciating pain of having a nail tear or break off and take my own real nail with it, I realized just how damaging this action is. IF you are local and need an excellent nail technician, look no further than Ren's Nails in Liberty, Missouri. Details will soon be added to my resource page for her. You may recall from my first post on the subject that I purchased thin, opaque gloves to wear during this process. We took a vacation to Florida in mid April and because we were meeting extended family members for the first time, my ego would not permit full disclosure (and my resolve was fairly new) so, I wore artificial nails. We just returned from a trip to IL and I had decided enough hiding – the Gloves were OFF! The Gloves are OFF!
Many people I know stopped the sculptured/gel nail practice because they saw thickening of their nails, or excessive ridges across them, etc. So, next I turned to using artificial nails and applying them with nail glue. When a nail broke off, it would just take the artificial nail, not my own nail with it. However, nail glue is extremely carcinogenic while nail polishes and other products used for nails also contain chemicals that can severely impact our health, nothing about nail glue is healthy. Formaldehyde being applied to healthy nails isn't such a risk but for nails like mine, it could easily seep beyond the skin and do serious damage. Here is a link to an article from the EPA on the subject: Facts About Formaldehyde. Formaldehyde is primarily found in nail hardeners and polishes.
Other suspect chemicals in the category of nail salons include Acetonitrile, Methacrylate Monomers in Artificial Nails ("Acrylics"), Methacrylic Acid in Nail Primers, and Phthalates in Nail Polishes and Other Nail Products. It really pays to spend some time evaluating what you are using (or having used on yourself) to determine if some changes should be made.
Here are recent images from the month of May to illustrate to slow but steady progress we are making: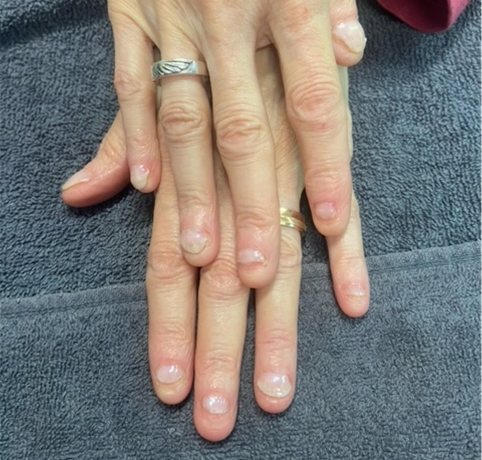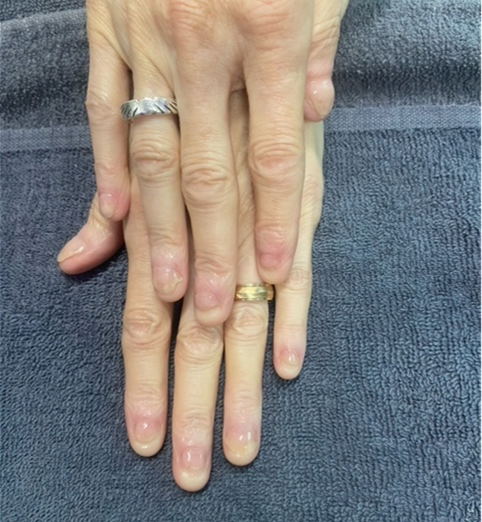 Again, I strongly encourage anyone struggling with a bad habit, or an addiction, to seek help from experts who can assist you on your journey to wellness.
Is this embarrassing? Hell yes! Worth it? Hell yes! YOU CAN DO IT TOO.